Apply below to find out if we're the perfect fit for each other.
Join us in Tulum. Sunshine, warmth and history.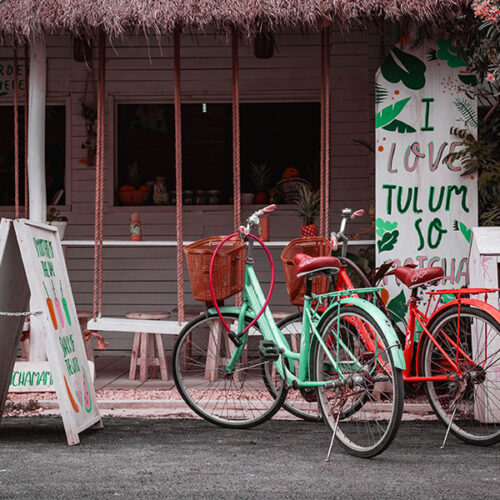 Escape Winter With Us in Mexico
Tulum offers the perfect combination of total relaxation, tranquility and seclusion, yet can fill your day with the many interesting and rich activities in the area.
Tulum is a town on the Caribbean coastline of Mexico's Yucatán Peninsula. It's known for its beaches and well-preserved ruins of an ancient Mayan port city. The main building is a large stone structure called El Castillo (castle), perched on a rocky cliff above the white sand beach and turquoise sea. Near the ruins is the Parque Nacional Tulum, a coastal area with mangroves and cenotes (natural limestone sinkholes). ― Google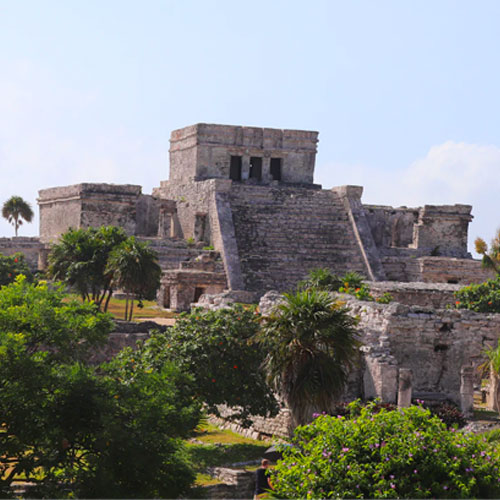 Visit the Tulum Ruins 
One of the very few walled cities build by the Maya, the 13th-century, walled Mayan archaeological site at Tulum National Park overlooks the sea. It incorporates the clifftop Castillo, built as a watchtower, and the Templo de las Pinturas, with a partially restored mural. Inland, the Cobá archaeological site has pyramid-shaped temples with views over the surrounding jungle. ― Google
Pictured here is  El Castillo – The Castillo, sometimes referred to as the lighthouse, and is the tallest building within the Tulum settlement. It's also the most famous. It stands forefront on the bluff, commanding a view of the ocean and coast for miles.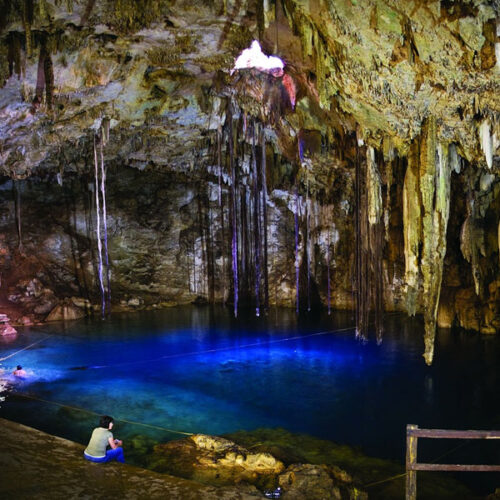 Cool Off in a Crystal Clear Cenote
Tulum and the surrounding area offer thousands of gorgeous and unique cenotes.
A cenote (se-nooti or se-note) is a natural pit or sinkhole resulting from the collapse of limestone bedrock that exposes groundwater. The regional term is specifically associated with the Yucatan Pininsula of Mexico, where cenotes were commonly used for water supplies by the ancient Maya.
Cenote water is often very clear, as the water comes from rain water filtering slowly through the ground, and therefore contains very little suspended particulate matter. The groundwater flow rate within a cenote may be very slow. In many cases, cenotes are areas where sections of cave roof have collapsed revealing an underlying cave system, and the water flow rates may be much faster: up to 10 kilometers (6 mi) per day. (Wikipedia)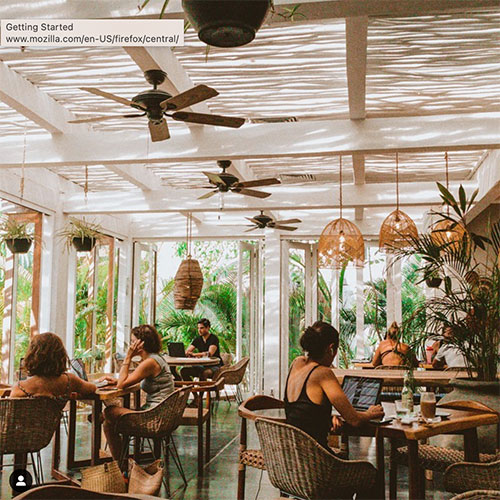 Your Mexican Cubical (Um… yes please!)
We've partnered with a coworking company that will allow us to see many of their 20+ locations throughout Tulum, offering us variety, many amenities, fast internet, and even great food!
Whether you want to work by the pool, in the jungle, a restaurant, boutique hotel, or in air conditioned comfy indoor spaces, we've got you covered.
Plus 20% off all food and drinks at any location.
Your Home for the Month
As you wake up, go to the fully-equipped kitchen, grab a cup of coffee and enjoy the first sun rays of the day and recharge your energy. The super comfy living and dining rooms are a wonderful open space to enjoy a great meal, a nice chat, a good book or if you prefer, head to the balcony to appreciate the view to the amazing complex, which is a secure gated community, only a few minutes away from the city center and the incredible Caribbean beaches. Each apartment has 2 bedrooms, 2 bathrooms, one fully equipped kitchen, a living room and one dining room. The apartment building includes a pool with sundeck and sunbeds, and full security 24/7.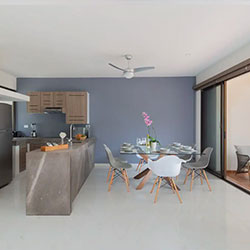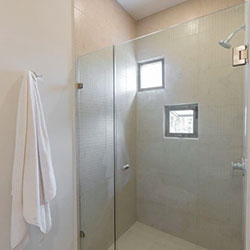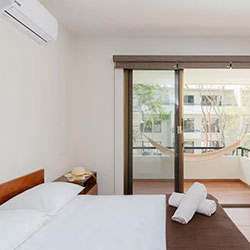 If you're looking for a more relaxed month-long escape to work on your business and soak up the warmth of Mexico, this trip could be for you.
There won't be the constant bustle of a large city with tons of museums and galleries to tour. There are beautiful beaches, tons of water activities–including the breathtaking cenotes to experience, oodles of Instagram-worthy scenes to take in, or simply kicking back by the pool getting your work done or catching up on favorite reading. We've also been told there are an abundance of delicious dining options and many spectacular world-class hotels to explore. You can also take a Mexican cooking class, swim with turtles in nearby Playa del Carmen, or for the adventurer in you, go ziplining or ATVing.
As Tulum is devoid of Ubers, public transportation is not available, and taxis are a bit sketch, our best mode of transportation is either walking (in the downtown area), bicycles, motorized scooters or a rented car. Please keep your physical abilities in mind as you consider this trip.
Thousands of years of history mixed with a modern, laidback lifestyle means Mexico, and the Yucatan in particular, should be high on everyone's bucket list.
PRIVATE ROOM IN APARTMENT
COWORKING SPACE MEMBERSHIP
LOCAL SIM CARD WITH DATA
PROFESSIONAL DEVELOPMENT
AIRPORT TRANSFERS
FREESTYLE FRIDAYS
WEEKLY LUNCHES & POTLUCKS
NETWORKING EVENTS
COWORKING EXPERIENCE: TULUM, MEXICO
*Monthly Payment Plan Available*
Spend 4 Weeks with Us in Tulum, Mexico
Private Bedroom in 2 Bdrm/2 Bath Furnished Apartment
Coworking Space Membership
Adventurous Life Masterminds, Roundtables and Activities
Round-Trip Airport Transfer from Cancun Int'l Airport (CUN)
Instant Curated Community of Your Peers
**Only 10 spaces available**
Payment plans available. Or see below for alternative financing.
Alternative financing available via PayPal Credit:
$0 down, no interest and no payment for 6 months. (U.S. citizens only.)
Come with us on our Adventurous Life coworking trip and experience this beautiful bucket list town for yourself!
What is a coworking trip? It's part working vacation, part live-abroad experience, part retreat, part mastermind — but wholly unique!
We take care of your housing so you can live like a local, your office space so you can keep making money while you're there, and various community activities so you can be with like-minded business owners (or folks working on a passion project) who love to travel and explore other cultures.
Go ahead and apply — there's no obligation; we just want to have a quick conversation to see that we're a good fit for each other!
COVID-19: IMPORTANT CONSIDERATIONS
Adventurous Life International is committed to the safety of all our participants and requires all to be fully vaccinated to join us on our trips (with proof).
Our Cancellation Policy
Our refunds are based on our own refund policies with our vendors:
Cancel greater than 30 days prior to the trip and receive a full refund, with NO PENALTY. (Special consideration for Tulum trip only.)
Cancellations less than 30 days prior to the trip will result in a full forfeit of fees unless we are able to fill your reservation with another participant.