THIS is Freedom
Ever bumped into someone you haven't seen for a while and that person asks you, "What's new?"

You answer, "Same old, same old."

But this time, as you respond, it really hits you.

You have been doing the same old thing day after day, year after year, looking at the same 4 walls, for FAR too long!

What if you could just run away?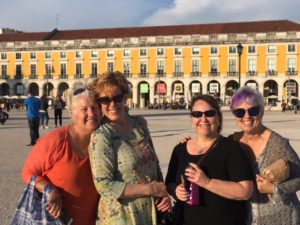 What if you could live for a bit in a gorgeous international location that inspired you, and run your business from a lovely office space part of the time — with all the logistical arrangements done FOR you?

What if you could make new friends among the other like-minded peers on the same trip, people you can explore your exciting destination with as you co-create the experience, people who may well inspire you to think differently about your business?

And what if you could do all that for a MONTH — for a lot LESS than most retreats charge for only a few days?

Without missing a beat in your business…

THIS, my friend, is true freedom!

And THIS is exactly what our Adventurous Life coworking trips do: get you out of "same-old, same-old" and deliver you into a thrilling experience sure to spice up your life and business!

Time is getting short to apply to join us for our upcoming trip to the amazing city of Rome, Italy!

Or, save your spot now for our Bali trip in November!

It's a no-obligation application…if you're fascinated with the possibility, apply now and let's talk!
What is a coworking adventure trip? It's part working vacation, part live-abroad experience, part retreat, part mastermind — but wholly unique!

We take care of:

1) your housing, so you can live like a local and really experience the place,

2) your office space, so you can keep making money while you're there, and

3) various community activities so you can be with like-minded business owners (or folks working on a passion project) who love to travel and explore other cultures, WHILE also getting their work done.

Just get yourself there, and leave the rest to us!

It's the answer to what stops most people from traveling. Coming with us on an Adventurous Life coworking trip means:


1) You don't have to travel on your own; you have company when you want it and alone time when you need it!
2) You can travel for a longer stretch because you keep earning money in your business just like you would at home.

3) You get to soak up the culture, which makes for a MUCH richer experience than running from tourist spot to tourist spot.

Go ahead and apply — there's no obligation; we just want to have a quick conversation to see that we're a good fit for each other!