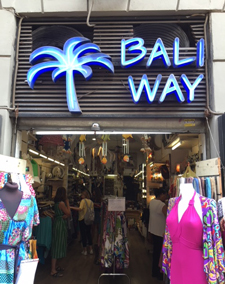 The Bali Way
Five days into our Adventurous Life month-long co-working trip in Rome, we are absolutely LOVING it!

Some of our Rome participants get up at the crack of dawn and walk the streets of historic Rome without the crowds of tourists. Gorgeous! Others stay up late drinking delicious red wine, enjoying the fresh night air and getting to know new friends.
In our 5 short days here, we've all gotten situated in our local apartments (a 5-minute walk from St. Peter's Basilica!), taken a tour highlighting the magnificence of Rome, shared dinner AND enjoyed a potluck, learned the public transportation system, and bellied up to the bar for amazing espresso.
We've gotten business stuff done in our co-working space, shared a presentation on creating content for business, and so, so much more. In only 5 days! And today, some group members are on a day trip to Tuscany!

But guess what Pam and I saw our first day here?

Yep! Only two blocks from our place in Rome is a sign pointing the way to our NEXT Adventurous Life co-working trip to…BALI in November!
When we saw this sign, both Pam and I immediately thought of the ritual flower offerings that add riotous color to the streets of Ubud, where we'll be. That's the Bali Way.

We thought of the Sacred Monkey Forest Sanctuary a few blocks away from the co-working space we've booked, and the bridge into that lush utopia. That's the Bali Way.

We thought of the ubiquitous temples rising from the fertile mist, and the rice paddies near the luxurious housing where all of us Adventurous Lifers will be living. The Bali Way.

We are taking applications now for our Bali trip, November 18-December 15, and it's filling up fast. We have a maximum for this trip of 15, so if you're planning to come with us — even just THINKING of coming with us — now's the time to make a move!