The Dream of Italy
Back in 2011, I made a radical mid-life decision to live in Italy for half a year. (It's Linda writing.)

I was 51 at the time, recently single, and the entire experience was a profound realization of a dream.

But it wasn't what I imagined.

It was SO much more.

Now that I'm helping others to realize big dreams like that for themselves, I thought I'd share some highlights of my experience in the hopes that they inspire something in you, perhaps your own radical mid-life decision.

I also have an invitation for you at the end related to what's possible for YOU in your wild and precious life!
—————
I chose to live in a fairly small town, about an hour away from Rome, and even though I wasn't fully conscious of it at the time, I was imagining an "Under the Tuscan Sun" or "Eat, Pray, Love" kind of experience.

I imagined Italian families rushing to "adopt" this foreign woman living in their midst, having me to dinner, sharing their homemade limoncello, picking olives together. It was a sunny, gauzy imagination set to the music of "O Sole Mio."

It didn't quite turn out that way, LOL!

The people were certainly polite. But they weren't inviting me on truffle-hunting excursions or sharing secret family tiramisu recipes.

They were just living their lives!

So I started doing the same thing, just living a "normal" life in Italy. And that's where the magic happened. (And where it can happen for YOU in September! More below…)

Here are some of my favorite memories:

Listening to my upstairs neighbor, a professional opera singer, practice "Nessun Dorma" night after night. In apartment buildings, you often get to know your neighbors through the walls. 🙂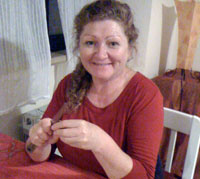 Improving my extremely basic Italian by talking with the Ukranian housekeeper at my apartment. It was the only language we had in common! We became dear friends and still are.

Sitting in a cave taking in steam from the same thermal springs mentioned in Dante's Inferno (written in the 1300s!). The people of Viterbo use this spa like an everyday resource for health and well-being.
Discovering 2,000-year-old ruins not on any tourist maps. That's one of the things that draws me to Italy: the large number of ancient buildings you can find just about anywhere. On one of my explorations, I discovered a huge complex of Etruscan tombs on private land + an amphitheater.
Watching a hydraulic scissor lift carry nothing but a tiny cup of espresso up to a worker inside an upper-floor apartment. All the rest of the workers were on break, drinking their own espresso on the ground. Sending that espresso up via the lift was such a perfect representation of how much the Italians love their coffee! Cracked me up!

And so, so many more!

I do have to admit that I struggled with loneliness sometimes. Which is one of the reasons I LOVE, LOVE, LOVE Adventurous Life trips! I like alone time, for sure, but now I never HAVE TO be alone if I don't want to.

To that end, I would like to invite you to make your own radical, mid-life decision and discover the "reality" of life in Rome by coming with us on our Adventurous Life coworking adventure in Rome, September 2 to 29.

You'll never get tired of the amazing, gorgeous sites that everyone goes to see. But staying for a month, rather than a few days, will allow you to truly experience Italy and the Italians in a way no other trip can do.

And because we bring our work, or a passion project with us, we are productive AND exploring.

I'm positive that the reality you'll experience in Rome will be so much more than you can imagine right now! It will light you up!