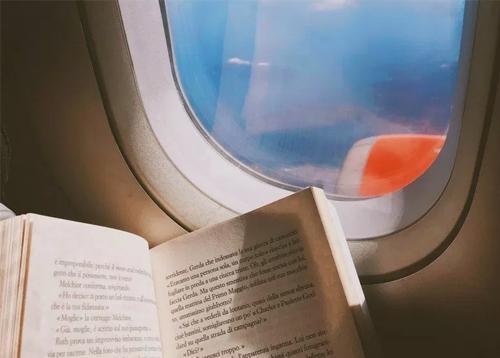 Long Haul Flight Hacks
Plan your in-flight entertainment
Download a few movies you'd like to see onto your device before you fly in case you've already seen what's showing on the plane or in case the in-seat screen isn't working (it happens). 
Fight Jet Lag
It takes 20 to 24 hours for your body to adjust for each hour of time zone change. So make sure to get natural light when you land. Exercise and a hot bath can help alleviate jet lag.
Wear comfy clothing
Keep it simple! Flying is always stressful, keep your packing minimal and your clothing comfortable and easy.
Reset your body clock pre-flight
Wherever you're going, it's going to be a much easier flight if you start adjusting your body clock to meet the time zone of your destination. This may mean going to bed later or waking up earlier for a few days before your flight. Airlines on long-haul flights usually match their lighting and meal times with their destination, so start preparing your body in advance.
Pack some airport security-friendly hygiene essentials in your carry-on
Keep travel-size (under 100ml) products in your carry-on: Mouthwash, a toothbrush, hand sanitizer, deodorant, and moist wipes. These products will help you feel human on the longest of flights. It's also very dry on planes so make sure to pack some moisturizer, facial mist, face mask, lip balm and some eye drops.
Bring your own snacks and an empty water bottle
You're going to be trapped in an aluminium cylinder flying through the air for several hours, so plan accordingly. Bring some customs-friendly snacks (if you bring unpasteurised dairy or fresh produce, you'll have to eat it or toss it before entering your destination). Also, bring a bottle you can fill with water once you can get through security – this is how you survive a long haul flight, by never paying a fortune for a bottle of water again!
Pack your gadgets
Make sure you pack your power bank and bring along the necessary cables and international adapters, especially if you'll be transiting at an airport and need to charge your electronics. As well, good headphones are essential to block out unnecessary noise (and we know there will be A LOT of it, especially in long-haul economy!).
Plan your in-flight entertainment
Make sure you have enough to entertain yourself for the flight if you're planning to stay awake. If you're bringing a laptop, an iPad, phone, or anything else that's energy dependent, make sure you have those shows already loaded on your device and that you've got enough charge or back up batteries for each. You can check if your airline has in-flight entertainment but be warned, those consoles can be glitchy or filled with shows and movies you've already seen. Check the functions of the entertainment system before take-off so you can inform the airline crew if yours needs a reboot.
Move your body
This is important before, during, and after your flight. A quick jog or gym session before your flight can help you get to sleep more quickly in-flight. A jaunt down the aisle and a few stretches will keep you comfortable if you need a stretch on the plane. Follow it all up with a short exercise session when you reach your destination, and your sleep pattern will be better adjust for the duration of your trip.