Amsterdam, Netherlands: May 3 to 30, 2020
Apply below to find out if we're the perfect fit for each other.
Join us in Amsterdam. Venice of the North.
So Much to See and Do!
This utterly unique city has everything we want in an Adventurous Life destination, but at this particular time of year, the thing we are most excited about is TULIPS! Although the exact season shifts from year to year, we expect to be there while we can still see these iconic flowers all around the city and in the vast fields of color just outside the city. Whoop-whoop!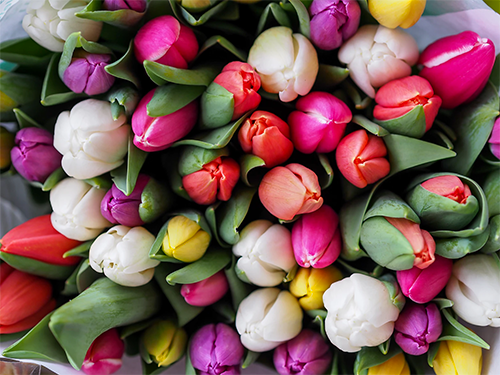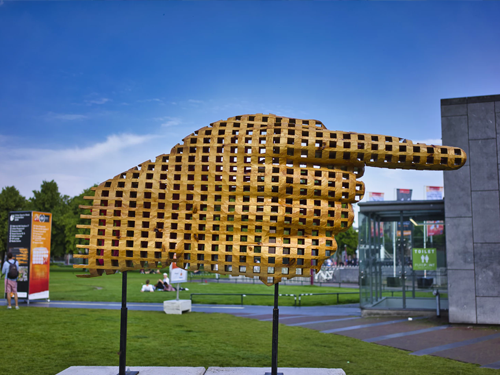 World Class Museums
But there's FAR more than just tulip fields that beckon. There's some great museum action here—from the Dutch national Rijksmuseum, Anne Frank House and the Van Gogh Museum, with the world's largest collection of Van Gogh paintings, to the truly unique, such as the Museum of Bags and Purses, the Cheese Museum and the KattenKabinet, which is devoted to works from well-known artists depicting cats.
"Venice of the North"
Then, of course, there's the enchanting and iconic canals Amsterdam is known for, crisscrossing the city and providing a home for about 2,500 houseboats. You can even cruise the canals at your own leisure via easily managed electric boats you can rent. The canals look completely different throughout the day; they're quiet and meditative early in the morning, and they come alive with color as the sun sets and homes light up at night, illuminating the waterways.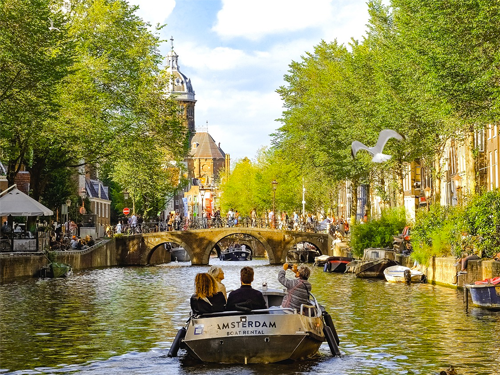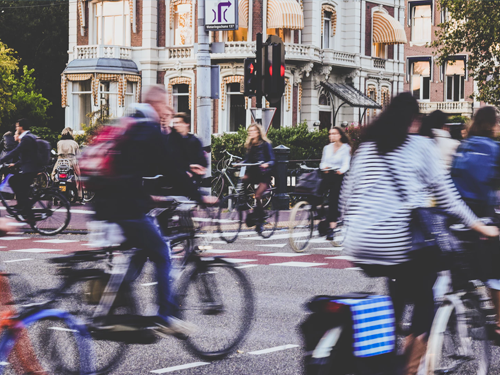 Walkable and "Cyclable"
Amsterdam is a great town to explore on foot, and you can cover a lot of ground through varied neighborhoods and commercial districts in just a few hours. But don't forget the bicycle! It reigns supreme here, and you'll quickly learn to look both ways—twice—before crossing any road or path or sidewalk or…yes, bikes are everywhere. In fact, a wonderful book to read before coming with us on this Adventurous Life trip is In the City of Bikes: The Story of the Amsterdam Cyclist, by Pete Jordan. It really gets to the soul of Amsterdam, by tracing its fascinating history and relationship with bicycles.
Enchanting Side Trips
Amsterdam has more than enough to keep us intrigued and occupied during our month there. But there are some wonderful day trips an hour or two away worth considering, namely the medieval town of Delft, known for its hand-painted blue-and-white pottery, and The Hague, not only the site of the United Nations International Court of Justice (headquartered in the lovely Peace Palace) and the International Criminal Court, but a lovely city in and of itself.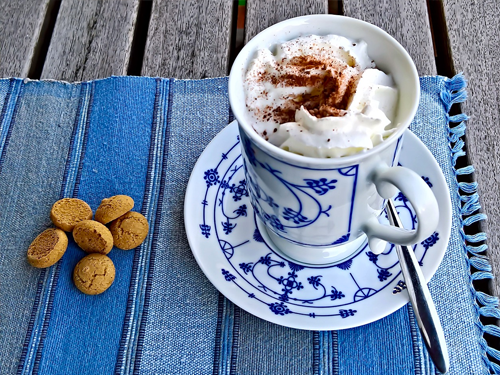 It's going to be a most memorable trip…won't you join us?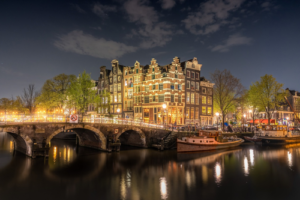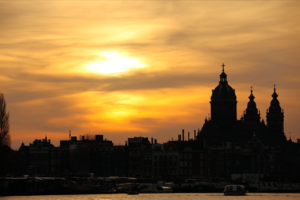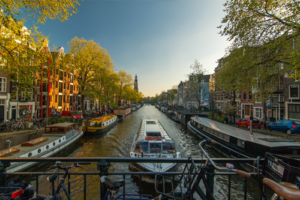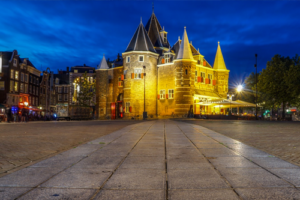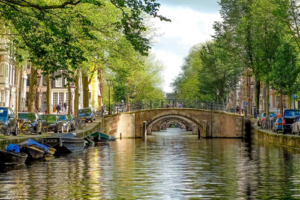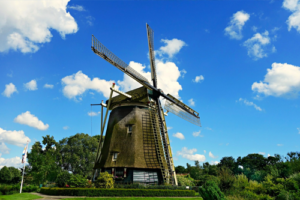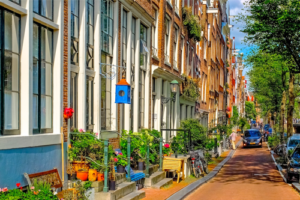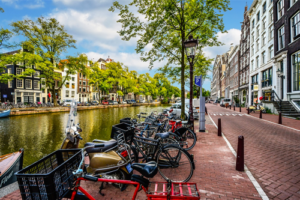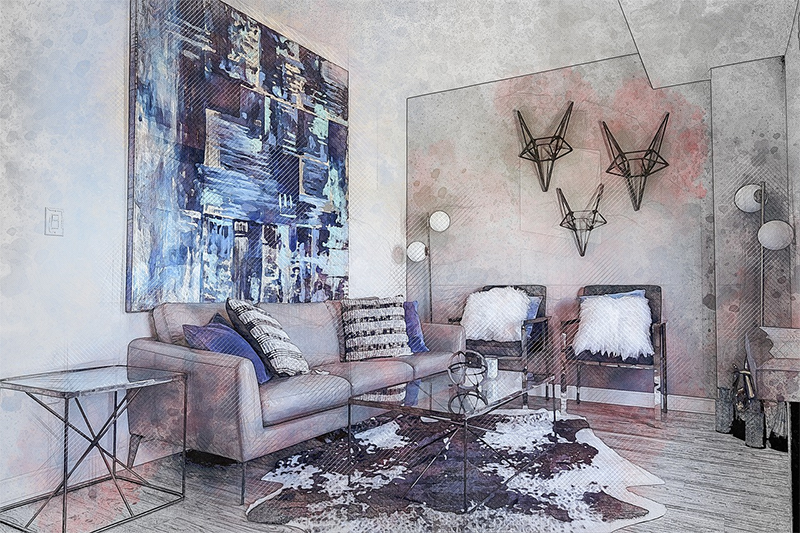 Full Apartments with Private Rooms
Wherever possible, work with local property management companies or real estate professionals to assist us in securing all apartments for our group in the same building, or nearby buildings. It is always our goal to provide comfortable modern spaces for you to enjoy in your destination home.
Comfortable, Productive Workspaces
We work hard to secure the best possible coworking spaces for our community, ensuring it's well-equipped, comfortable, and a place you want to spend time in.
We're currently exploring coworking spaces in Amsterdam and will announce our exact location when it has been selected.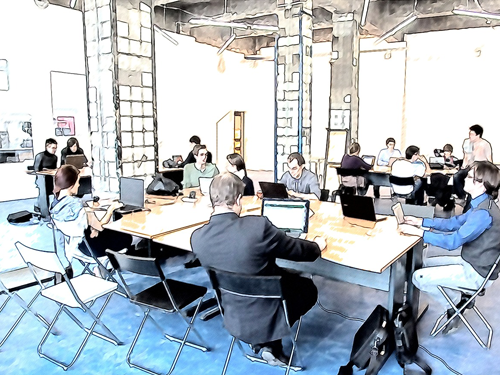 Payment plans available. Or see below for alternative financing ($0 payments for 6 months!).
4 Weeks in Amsterdam
Monthly payment plan available
Spend 4 weeks with us in beautiful Amsterdam
Coworking space membership
AL masterminds, roundtables and activities
Instant curated community of your peers
2 Weeks in Amsterdam
Monthly payment plan available
Spend 2 weeks with us in exciting Amsterdam
Coworking space membership
AL masterminds, roundtables and activities
Instant curated community of your peers
Alternative financing available via PayPal Credit:
$0 down, no interest and no payment for 6 months. (U.S. citizens only.)
Special rates available for a couple sharing a room.
* Two-week participation is available the first two weeks only.
Come with us on our Adventurous Life coworking trip and experience this beautiful bucket list city for yourself!
What is a coworking trip? It's part working vacation, part live-abroad experience, part retreat, part mastermind — but wholly unique!
We take care of your housing so you can live like a local, your office space so you can keep making money while you're there, and various community activities so you can be with like-minded business owners (or folks working on a passion project) who love to travel and explore other cultures.
Go ahead and apply — there's no obligation; we just want to have a quick conversation to see that we're a good fit for each other!
Our Cancellation Policy
Our refunds are based on our own refund policies with our vendors:
Cancel greater than 60 days prior to the trip and receive a full refund, less a 10% administration fee.
Cancel 30-60 days prior to the trip and receive a 50% refund.
Cancellations less than 30 days prior to the trip will result in a full forfeit of fees unless we are able to fill your reservation with another participant.